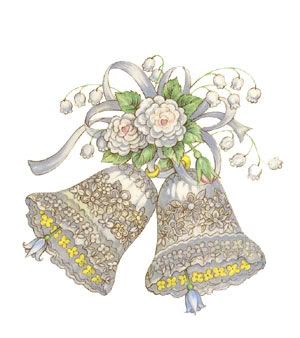 My daughter is getting married in less than a month. Ever since she was a young girl she asked me to make her wedding dress. This was the year.
She chose a pattern that was a bit complicated, but beautiful. Vogue patterns aren't known for being quick and easy and this one certainly wasn't. Together we bought the fabric in early March. I was ready to start sewing right away, but she talked me out of that, certain she would lose more weight. (She all ready looked great)
May was the month I actually started on her dress. My least favorite part of sewing is cutting out the fabric and this dress by far had more pieces than anything else I'd ever made. I spent a good two days cutting, earning an unwanted backache and sore hand. What a relief it was when I was done. The following week I started to sew and then the real adventure began.
The bodice of the dress has five layers. I made a practice one out of muslin according to her measurements. It was way too big. The next one I made two sizes smaller, it was still too big. The third bodice was finally the charm. I went down another size. The third time around I was wondering what I would do if it still wasn't right, feeling discouraged and doubting my abilities to get the custom fit she wanted. However, I knew I had to continue on, my daughter was counting on me.
When the bodice was ready for her to try on, my stomach was in knots. If this one didn't I would need to buy new fabric and start completely over. Not a pleasant thought. She got it on and it looked like it would fit well, so far so good and I was starting to feel optimistic. The true test would be after the zipper was in. The pattern called for an invisible zipper which would be on the side of the bodice. That in itself was a bit intimidating. I reread the directions several times making sure I was doing it just right.
My attempt was sincere, but even then I had to unpick one side two times. Again, the third time was a charm! The zipper went in wonderfully and I was so relieved, another fitting. When I moved the zipper tab upward to close the gap between the two sides I felt a shudder of dread. It didn't look like it would close. When it did I was worried she couldn't breathe. She looked in the mirror and squealed with delight.
"It's perfect Mom! Oh thank you!"
"Are you sure it isn't too tight? What about here?" I pointed to her waist, still not feeling for certain it was right.
"No, it fits great!" She shifted the bodice. "See, I still have a little wiggle room." she grinned. I let the breath escape I had been holding. All I had left was the inner lining and then the skirt. I figured I was home free. Not quite. The dress had a train and draped to one side in the back with swirls of white chiffon. I sewed, and un-picked, and sewed some more and un-picked again. It just wasn't laying right. I was frustrated and tired of unpicking seams. More than once I had the thought I would like to drop the dress on the sewing table and walk away. It was taking me so much longer than I had expected.
The rest of the week I spent everyday sewing and every other room in my house looked like it. My family was also forgetting what eating a well-balanced meal was like. Quitting was very tempting. I thought about calling in a few favors from a friend who was an excellent seamstress thinking maybe she could take over. I knew in the long run I would regret that. So...I kept at it. And, finally the skirt was on and it actually looked like a dress. When my daughter tried it on I was a bit in awe, it fit her so well and draped just perfectly. Did I really make that?
The last step was making a bolero jacket. The dress was strapless. I cut out the fabric and lining in her size and began thinking this part of the dress would be a "piece of cake." The pattern was fairly simple. It ended up much more time consuming than I was expecting. I had to mend a few spots where the chiffon was fraying, make the seams more narrow to add some extra room, and because I sewed the lining to the inside bottom of the sleeves it wouldn't turn completely right side out. I discovered that part of the sleeves had to be hemmed by hand, last. More unpicking.
When my daughter tried it on, it looked ok. She couldn't raise her arms very far; it was a little tight across the shoulders. She said it was fine; she would adjust during the dancing at her reception. I was more than ready to be finished, "make do" and ignore the flaws. I mulled it over. The next day I knew I had to make another one, one that fit better and was more comfortable.
I hoped this one would be quicker to do since I'd made one already. I still spent most of the day on it. Once it was done, she tried it on again with the dress. It looked much better and she was happy she could move her arms without it pulling. I had her turn from all sides, looking for any puckers or spots that needed to be readjusted. I couldn't find any. She looked beautiful--I had done it!
I thought back over the last week, the times I wanted to quit, or the times I felt like leaving something instead of fixing it. The frustration I dealt with in dealing with the slippery chiffon and having to re-cut the fabric more than once on some of the pieces. There were white threads of different sizes all around me from un-picking, more than I ever have when I sew. The experience of making her wedding dress reminded me of an important lesson.
How many times in life do we face difficult challenges? How often do we want something wonderful to happen right now? Do we face days when we are tired of pressing forward? Giving up is enticing and the easier road often beckons. Do we tell ourselves it doesn't really matter? Silence our inner voice telling us to try just a little harder? We rationalize its okay to quit; we've done what we could.
I wanted to quit several times, cut corners or scream in frustration. The result of not giving up was a beautiful dress. A dress for one of the most significant days of my daughter's life, a dress she would cherish always. How much greater is the reward, the satisfaction and sense of accomplishment, the elation of giving something hard everything we have and succeeding? How much greater are the refining lessons we learn along the way? If we give up before we reach the goal are we sacrificing an important part of who we can become?